Post by Hydra450 on Oct 26, 2010 0:35:06 GMT
This is a topic where I put up pictures of arcade system boards and you look at them and give your opinions!
This is the DECO Cassette System, introduced into the arcades by Data East in 1980, accompanied by the Multi-Conversion Kit. First-ever arcade system board to have interchangeable games. The games are stored on audio cassettes that the system's memory will assimilate and load in 2 minutes and you can play on the machine. Each tape comes with a security dongle to protect against illegal copying. Its popularity was at its peak in 1982. However, there were problems. One thing, the tapes are sensitive to magnetics and are demagnetized easily. Another flaw is long loading times. The final flaw, is that the quality of the games on the system were kinda "bleh". The Cassette System was discontinued in 1984. Nevertheless, one of the games on it (BurgerTime) became an instant classic, and also, the Cassette System is the
metaphorical prototype
for later arcade system boards like it, like Nintendo's Playchoice-10 (based on the NES), and SNK's Neo-Geo and such.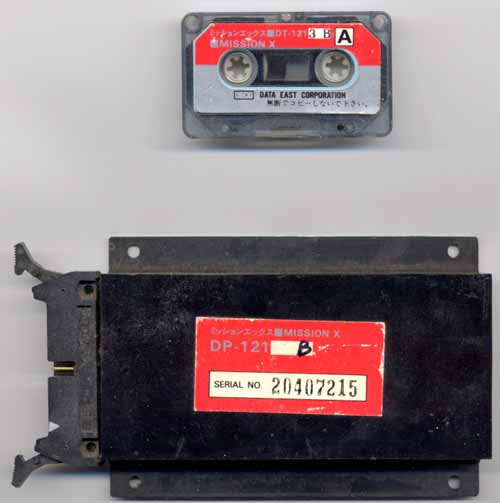 this is Mission X for the Cassette System, pictured with its security dongle
speaking of the Neo-Geo MVS...
there are different types of motherboards. and there are six or seven types of them that play one cartridge, like this one; model MV-1
this is model MV-1F
MV-1A (I know what you're thinking, "It looks a lot like that MV-1F")
MV-1B (can only play the trackball game, Irritating Maze)
model MV-1C (on it, the cartridges mount vertically)
this is the MV-1FZ, another version of the MV-1F
this is the MV-2F, and it can play two games in one cabinet (not at once!)
this is the MV-4F, and it can have four games installed on the cabinet
and this is the MV-6F, and it can have six games installed in the cabinet! Of course, I heard that they're rather notorious for breaking after a while
this is the motherboard for the Europe-only Sega Mega-Tech, a multi-game jukebox system (like the Neo-Geo) whose hardware is based on the Genesis/Mega Drive (and no, you can't play its carts on a standard Genesis/Mega Drive home console)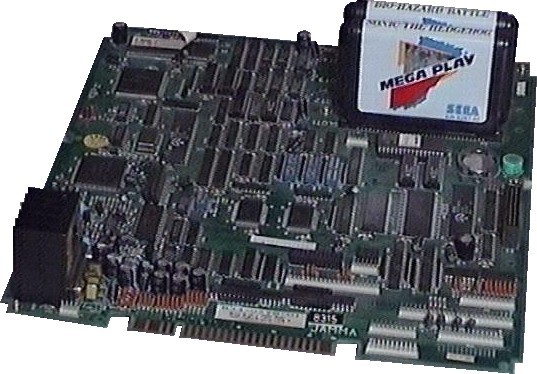 this is the PCB for the Mega-Play, a later version of the Mega-Tech that can only have two games installed on it (and like the Mega-Tech, the hardware is based on the Genesis/Mega Drive)
tell me what you think!
Image re-sized
- Admin